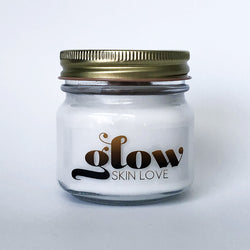 Glow | 8oz Skin Cream
Glow is a super nourishing skin cream that is anti-aging, moisturizing, and soothing. Glow features a nutrient-rich blend of plant oils as well as therapeutic essential oils specifically chosen to deliver deep moisture and relief to all skin types.
Ingredients: Purified Water, Frankincense Oil, Cedarwood Oil, Lavender Oil, Copaiba Oil, Macadamia Nut Oil, Vitamin E Compound, Organic Argan Oil, Organic Castor Oil, Ylang Ylang Oil, Geranium Oil, Hyaluronic Acid, Patchouli Oil, Myrrh Oil, Helichrysum Oil, Lemon Oil, Humectant Binding Base
Frankincense essential oil

 

is known for its ability to reduce the appearance of wrinkles, age spots, scars, and stretch marks.
Myrrh essential oil

 

is a potent antioxidant.
Cedarwood

 

and Colaiba essential oils

 

reduce common skin inflammation caused by eczema and psoriasis and aids in the healing process.
Along with its alluring fragrance,

 

Ylang Ylang essential oil

 

aids in reducing skin irritation and redness as well as reducing environmental cell damage.
Helichrysum essential oil

 

packs a serious punch by repairing damage caused by free radicals, and delivers a corticoid like a steroid, reducing inflammation.
Glow will literally deliver moisture to your whole body and nourishing balance to your skin from the outside in!